COVID Retail Recovery Interactive Narrative
What attributes will determine how retail corridors recover from COVID-19?
Using
Live.XYZ
's unprecedented retail dataset, I developed an interactive data narrative for HR&A's newsletter to inform NYC's retail corridor recovery. I analyzed unique metrics that might serve as either assets or liabilities in determining recovery potential.
Built with D3.js, this "scrollytelling" piece allows users to interact with the narrative to explore the unique retail composition of three NYC retail corridors.
The report was picked-up by
Crains
, Politico, and the
Bronx Times
.
Link
July 2020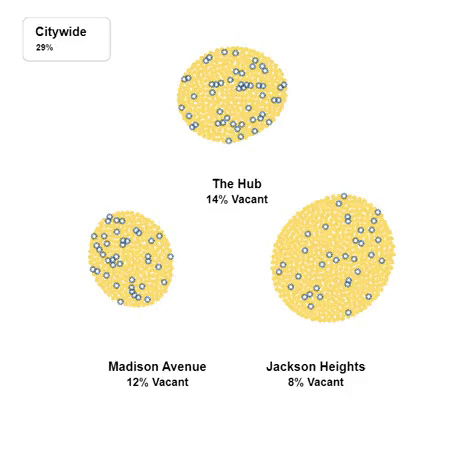 Comparing the vacancy rate of three distinct NYC commercial corridors.