COVID Retail Recovery Interactive Narrative
What attributes will determine how retail corridors recover from COVID-19?
Using
Live.XYZ
's unprecedented retail dataset, I developed an interactive data narrative for HR&A's newsletter to inform NYC's retail corridor recovery. I analyzed unique metrics that might serve as either assets or liabilities in determining recovery potential.
Built with D3.js, this "scrollytelling" piece allows users to interact with the narrative to explore the unique retail composition of three NYC retail corridors.
The report was picked-up by
Crains
, Politico, and the
Bronx Times
.
Link
July 2020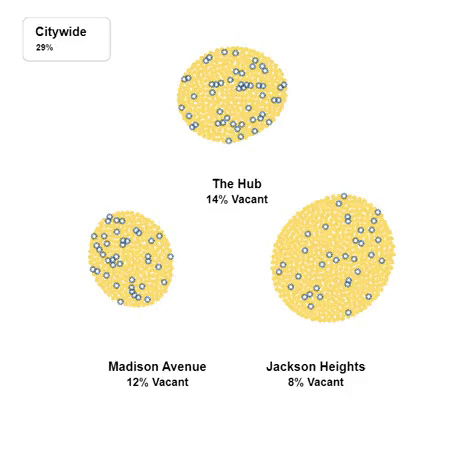 Comparing the vacancy rate of three distinct NYC commercial corridors.
Google Maps Place Extractor
Google makes its Maps "Place" data available via radial location search through their API; however, the structure, number, and completeness of places returned in any one query makes it difficult to accumulate bulk place data.
In order to analyze trends in the distribution of New York's small businesses, I assembled a recursive algorithm to methodically drill down from any given point and radius, allowing users to scrape place data for whole neighborhoods or even cities.
The Python script exports a CSV of place data including coordinates, place name, type, and ratings as well as a GIF of the radial recursion used to compile all of the data.
Github
April 2020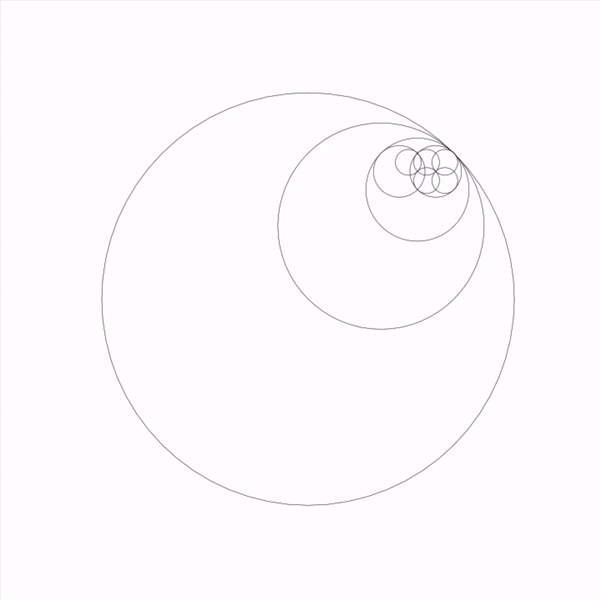 A search for all cafes within ~15 miles of the geographic center of NYC begins to unveil the outline of Manhattan.
I ♥ process art.

Isochrone Mapping Tool

Travelsheds, also know as "isochrones", map the set of destinations that can be reached from a specified location within a given time-budget. The resulting geometries give quick visual cues about location accessibility and can be further used in geospatial analysis to answer questions like:
How many people live within 10 minutes of a park?


What is the number of businesses/jobs accessible from a new development?
For HR&A Advisors, I developed a web-based isochrone mapping application that leverages
OpenTripPlanner
to create a graph of city transportation infrastructure, merging local street networks and public transportation schedules.
I've layered on a simple point-and-click front-end that allows users to determine the average accessibility of any given point by various modes of transportation and time-distance and export the resulting shapefile for use in further geospatial analysis.
Link
February 2019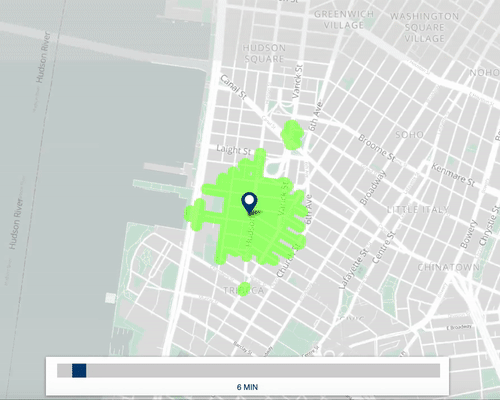 Time-distance travelsheds by public transit from Tribeca.
Buffalo Skyline Simulator
HR&A was hired by the City of Buffalo to develop a sustainable funding strategy for a network of waterfront parks.
In order to determine the feasibility of a potential new value capture mechanism such as Tax Increment Financing, I developed an internal tool to visualize the new development required to sustain the operating expenses of the park network.
Developed with Mapbox GL, this tool takes custom user inputs such as pace of development, zoning restrictions, assessed value PSF, and percentage of tax increment captured and models the required new density on top of Buffalo's underbuilt and vacant parcels.
April 2019
A potential future Buffalo skyline.
WeWork Global Impact Report
WeWork hired HR&A to evaluate the economic impact of WeWork locations across the world for their 2019 Global Impact Report.
Building off our experience producing a three-city economic impact assessment in 2018, we developed a scalable workflow to automate the process for producing impact metrics for all of WeWork's global locations, allowing them to reproduce the report in future years as they expand into new markets.
The Python based tool leverages public data APIs from the Census Bureau and Bureau of Labor Statistics and injests relevant demographic, economic, and sustainability indicators along with WeWork's own internal member data and propritary econometric multipliers to model unique and compelling impact metrics for each city in which WeWork operates.
Link

February 2019
HR&A's automated impact model underpins the WeWork Global Impact microsite.